Touring around the world and coming to the most beautiful places will take much time and effort. A tourist will not only come to just one country to explore and to discover its natural beauty. A tourist will surely love to explore every country that caught his attention and as a tourist he will surely find time and make a way just to reach his destination and chosen tourist spot at that moment. It might also be expensive if you always go to different countries for a tour, but if touring is flowing in your body, then you won't have an excuse and you won't have a reason not to get to where you want to go.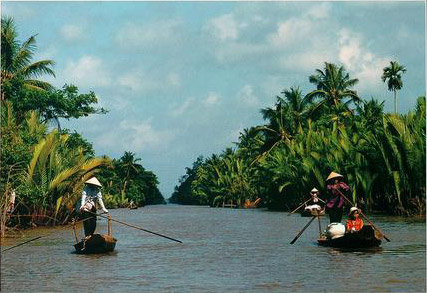 In the Southeast Asia, you will find the Mekong River. Most of the time, people come to Vietnam and explore the Mekong River. They take this tour for a day or two and it actually depends on how long you would like to spend for your Mekong Delta Tour. The Mekong Delta or also known as the Nine Dragon River Delta, is found along the southwestern region of Vietnam that covers an area of about 39,000km2. The Mekong Delta is considered as a biological treasure trove because it has more than 1000 species of animals. With such, exploring the place is a must.
On your Mekong Delta Tour, you have to depart Ho Chi Minh City early in the morning and travel by bus or by car to My Tho, which is a city in the Tien Giang Province. Upon your arrival, you will board on the boat and go to the Unicorn Island that is in Thoi Son. On your way, you will see the fascinating creeks, fisherman's ports and stilt houses on the water. You will also visit a bee farm and grab a cup of honey tea, go to the villages around and see how people's life are along the Mekong Delta, pass along the canals with small boats, go to coconut candy and handicraft shops. You may also have a chance to check out Ben Tre, which is just 20-minute drive from My Tho and you can cruise here to enjoy the scenery of the Mekong Delta's small channels and bamboo houses along the orchards. After this exploration, you may have lunch and go back to your big boat. You have to arrive Can Tho in the evening and stay overnight for the next activity.
Now that you are already in Can Tho, have your breakfast and get ready for another Mekong Delta Tour. If you would like to buy some souvenir items and go shopping, then this is it. You will get a boat and reach the Cai Rang floating market, which is the largest floating markets in the Mekong Delta. Here, you can observe how trading happens, buy some fresh fruits, vegetables and fish. After your shopping, you will land on a village that is famous for noodles and factories making rice paper. You will also visit a rice factory where you can learn about the process on how the people make a rice that has a brown cover. After this tour, you must prepare for your lunch and you have to go back to Can Tho.
That ends your Mekong Delta Tour in two days, the reference in this tour. If you would like to explore more of the Mekong Delta, you may ask your travel agents to get you a schedule and tour for three or five days. Everything will actually depend on your schedule. It is your holiday, so spend the most of it. This chance to visit the Mekong Delta can be considered as one of your amazing experiences in Vietnam. So, while you still have time, choose the best package and free yourself from worries because all you need to think about is how you can enjoy this Mekong Delta Tour.
Whoever comes to Vietnam always pay some time to check out the beauty of the Mekong Delta. The lifestyle is simple and the people are friendly. With the help of your tour guide, you will find out more about the greatness of the Mekong River and about the history of the place. The Mekong Delta will surely be a one of a kind tour, so it will always be a must to visit the place.
I'm Oliver Nguyen from Viet Fun Travel. I have 8 years experience in the tourism sector organized in Vietnam and Southeast Asia. My passion is travel on weekends and holidays. Currently I am writing guest post for website Vietfuntravel.com.